Phaseout of R22 Refrigerant for AC Units Means Higher Cost Per Pound for Consumers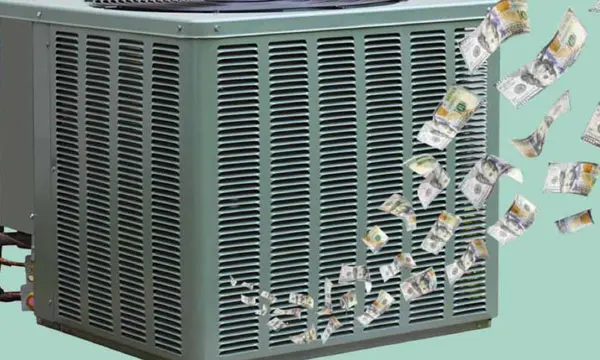 If you've had to have your AC repaired in the last year or two you may have noticed that the cost per pound of refrigerant is rising faster than the temperature in July. No contractor wants to tell a customer that what used to be a fairly minor service has now quadrupled in cost. The international R-22 phase-out is hitting all of us pretty hard.
With so many myths and misconceptions about AC refrigerants, we can appreciate the questions and confusion homeowners have regarding the care and feeding of their air conditioners.
One of the Most Common Myths About AC Units
Air conditioners "burn" or exhaust refrigerant the way cars use up gasoline. They need to be charged or "refilled" periodically.
The Cold Truth About Air Conditioners
Refrigerant is not "fuel". In simple terms, a properly functioning AC "cycles" the refrigerant internally. The system continuously converts it from a low-pressure gas to a high-pressure vapor, then to a liquid and slowly back to a low-pressure gas over and over as it passes through the lineset, evaporator coil, and condenser. There should be very little need to replenish the refrigerant in any type of air conditioner. If your system is low on refrigerant, you have a leak!
Major Fail for R22 Refrigerant
R-22 refrigerant was developed in 1930 to replace the "more dangerous", highly toxic or flammable refrigerants of that era. It was more stable, efficient and safer than its predecessors. Or at least that's what they believed.
Unfortunately, over time, this refrigerant was discovered to have its own set of complications. The most devastating are its ozone depleting properties and significant contribution to global warming (1725x worse than the effect of carbon dioxide!)
Goodbye Greenhouse Gas!
In accordance with a multi-national agreement instated to help reduce global warming, the US Environmental Protection Agency has ordered a substantial reduction and ultimately a complete ban on the production of R-22 Refrigerant by 2020.
The manufacture and sale of air conditioners that utilize the refrigerant have also been on the decline worldwide since 2010. They are no longer available at all in Southern California or most other regions of the US.
Hello, Puron! (R410A)
In 1991 another refrigerant replacement, R-410A, was released out into the world (pun intended). Always one step ahead of the game, by 1996 the innovators at Carrier Corporation, having predicted the ultimate demise of R-22, had already designed and introduced the first residential air conditioners using the new, more environmentally conscious refrigerant and aptly named it, Puron. The industry quickly followed Carrier's lead. R410A has now become the standard refrigerant for a huge variety of residential and commercial AC brands and systems.
Like any chemical R-410A has its pros and cons. However, compared to R-22, it is NOT ozone depleting. It allows for higher SEER ratings (more efficient AC performance) and it reduces energy consumption. This further minimizes the environmental impact due to greenhouse gas emissions from power plants.
What Does the Rise of R22 Cost Per Pound Mean for the Future of Your AC?
If your AC was manufactured or installed before 2010 and no later than December 31, 2015, your day of reckoning is approaching. As the availability of R-22 declines, it will no longer meet the demand of millions of homes with aging air conditioners and the price of the refrigerant will continue to sky-rocket!
In 2015 the cost of this refrigerant to the consumer (please note this is just an estimate including average service fees – there will be variations) was around $60-$85 per pound. As of now (May 2017) it has already risen to around $150 per pound with no ceiling in sight!
Once production of R-22 halts the only option will be limited and finite supplies of recycled refrigerant recovered from old AC units. The cost will continue to go from outrageous to obscene.
The Good News is You Have Options With AC Cool, Inc.
Replace Your Current System (the best choice long term for you as well as for the environment) If your air conditioner is at least 10 years old, or if you've had trouble with it in the past, replacement is likely the most cost effective solution. The upfront expense may seem daunting, but AC Cool offers an array of quality Carrier equipment to fit most budgets. We also have financing options to make the transition affordable.

Not only will it preclude costly repairs, but modern air conditioners are far more efficient which will lower your utility bills. Plus, the environment will thank you!

Diet Coolant? Modify Your Current System (not possible for all makes and models)

Although they are not inherently designed for conversion, some air conditioners may be modified to handle a refrigerant blend to at least minimize the cost and consumption of R-22. If it's possible, basic alterations may include replacing the compressor oil, filter drier and possibly the TXV or cap tube system (refrigerant metering devices) to handle the refrigerant blend. Not all units are conducive to this option and it could be costly (up to around $2500). However, it can't hurt to ask your licensed, experienced, professional HVAC technician when weighing your options.

Use the B.O.A.T. Method (Break Out Another Thousand!)

The final choice would be to hang onto your current system and pray that it doesn't fail. Contractors will continue to service R-22 units. However, as the supply of recovered R-22 refrigerant rapidly dwindles, it will become cost-prohibitive to repair and recharge them.

The average residential AC holds 5-15lbs of refrigerant. They don't always require a full charge. A conservative estimate of 1 to 15 pounds of R-22 at current prices would cost you $150-$2250 for refrigerant alone (not including locating, sealing or repairing the leak)! That number is expected to at least double in the next 12-18 months.
Prevent Costly Repairs for Your Air Conditioning Unit
As the cost per pound of R-22 for your AC continues to rise we want to make sure all of your heating and cooling needs are met.
We can't predict when your current AC will break down. Chances are it'll be 120° outside on a Sunday while your wife is 8 months pregnant with triplets and you're having a birthday party for your 98-year-old grandmother.
No matter what you choose to do or when, AC Cool is here to educate, estimate and facilitate! If you'd like more information on your AC, replacements options and costs, financing or government energy efficient upgrade programs, call us today!
Back to Posts